iXBlue 1550nm Radiation Hardened Fibers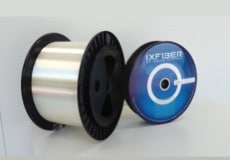 iXblue
RadHard Fibers
iXblue Photonics offers both erbium and erbium-ytterbium doped single clad and double clad radiation hardened single mode fibers. For over a decade, these RadHard fiber products have been designed for  reduced sensitivity to radiation effects, and have been battle tested in more than 20 space missions.
Whether for satellite, communications, aerospace,  deep space sensing, or high energy physics the co-development of fiber amplifiers or laser systems with  iXblue partners have led to reliable (long lifetime) performance in terms of signal gain and  transmission bandwidth in real world harsh radiation environments.
Some of the key features for these exceptional iXblue RadHard Fibers are highlighted below:
Single Clad standard and PM Er doped fiber : Gain degradation <0.25dB/100 krad with 30dB gain EDFA

Double clad (DCF) Standard and PM

 

Er-/Yb doped fiber : Gain degradation <1.5dB/100krad with 10W amplifier design

Standard and PM DCFs with 6 & 12μm core

Panda PM and associated passive fibers available

Radhard fibers compatible with high cumulative irradiation dose
See product details or contact us for a quote.